For many years, charities across the globe have been encouraging students towards joining volunteer programs to help make a notable difference in the world.
At the Khabza Career Portal we know that volunteers are an integral part of any charity-based organization, and there'll be no charity without them. Volunteering not only benefits the wealth of causes, but it can also boost up the prospects of a student once they head out into a working world.
Let us look at how the concept of Volunteering can benefit the professional career of a student.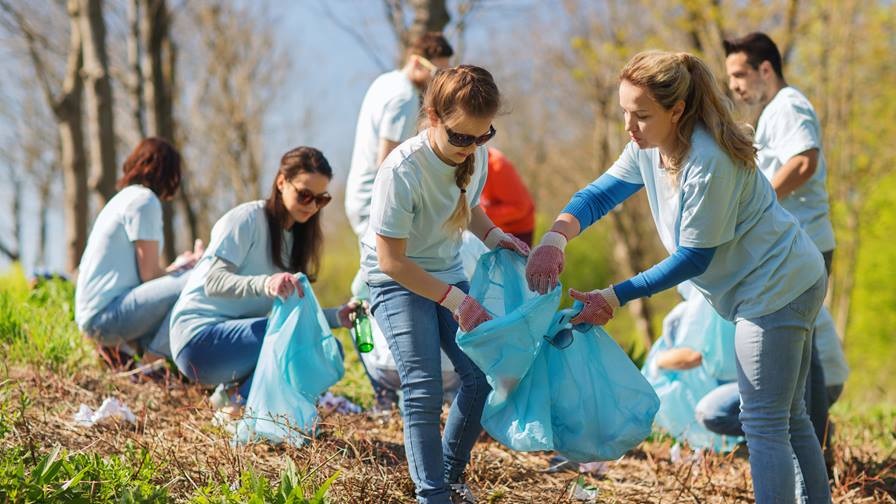 Why Should Students Volunteer?
Volunteering can be an advantage that allows you to experience the world differently for the better. Whether the volunteering duration would be consecutive days, weeks, or even months, the impact could be life-changing.
Besides, there is a greater sense of pride and achievement that generously comes by giving up the student's time for a workable and worthy cause.
Students are the critical demographers for various volunteer programs because they do have many idle hours beside their academic hours and can commit to working out. Of course, fundraising is a crucial aspect of any charity, especially those who rely on donations without any government benefits. However, students, with their contribution, can still make a difference.
4 Key Factors to Build Student's Professionalism

Develop New Skills
It can be beneficial for students to study new skills in their field. It is the best way to gain real hands-on experience in their desired industry. Even if the skills are irrelevant to their specified industry, they can still hold those as transferable or life-skills.
For instance, being a student, volunteering can help you build excellent leadership skills if you're responsible for a countable group, especially. Also, leadership is an outstanding skill to have and is transferable to various roles. Stats say that 51 percent of recent graduates under 30 underemployed have stated that volunteering helped them secure their position.
Meeting Diverse People
Volunteering can be a fantastic way for students to get their foot in the door and meet new people. Even though networking cannot be the first thing that arises in the mind when people work for a cause, it's a fantastic perk. Whether at home or abroad organizations, can bring people together from different life walks.
Irrespective of your background and experience, all of you are at one place to achieve a shared goal; better those lives supported by charities. Over the session, you'll be able to build healthy relationships with everyone. You can affect your future career by further communicating with your fellow members for professional growth, like getting a job or personal interest, like volunteering.
Exploring Various Interests
For many students, deviating from the Academics is not an option. Instead, they may miss some great social interaction deals and pick new hobbies instead of being intense in studies. In other ways, volunteering can be a path for some students to explore other interests they may not have taken part in earlier.
How to Become a Conflict Resolution and Negotiation Professional?
Even this could lead to a career alteration! Whether they include volunteering at a nursing home, helping in an organic vegetable farm, offering a hand in nature conservation at a local wildlife trust could bring about change.
Build Awareness While Benefiting Students
Student volunteers can contribute significantly to the charity, but not least because of their enthusiasm and determination. They also stay helpful in spreading the word about charity and building awareness of what they do.
People who used to spread their way around social media better than others, by taking pictures or distributing custom-made video campaigns and allowing their friends to follow their charity progress also help build awareness. Therefore, future employers looking at the employee's social media profile will be pleased with their work nowadays.
Professional Benefits of Volunteering Work
Just volunteering work is an unpaid thing; it doesn't mean as less or invaluable. Every skill you will learn during your volunteering task is absolutely an excellent gain in terms of experience.
Let us look at the professional benefits that students gain while volunteering for a worthy cause.

Gaining Career Experience
Volunteering is the best chance to gain work experience in the respective field. Volunteering is easier to find tasks than falling into a chicken-and-egg situation by applying to an entry-level opportunity after graduation. Even you can add this volunteering experience to your resume with no career gap.
Get Training Opportunities
Although various online course platforms emerge, the education cost is reaching mountain levels. Concerning this, receiving volunteer training can be much valuable, but with no wage receiving.
Improve Job/Career Prospects
Volunteering can improve your job prospects for two primary reasons.
Firstly, in this competitive job market, professional networking is more essential, whereas volunteering is a fantastic way where you can expand your network. Gaining a professional recommendation from others can increase your chances of getting the right job, be it a startup or corporation.
Secondly, employers can prefer candidates who have a proper time volunteering experience, which makes a positive impression.
Trying out a New Career
In current situations, switching between various opportunities or domains is becoming a challenge for multiple reasons. But volunteering might make you fulfill your dream to switch between your job or career because of meeting diverse people.
List Volunteer Work on your Resume
You can include your volunteering experience on your resume or cover letter if:
You are applying for an entry-level job posting;
You have a gap in your professional life and trying to plug the gaps;
You are applying for the position relevant to volunteering.
To meet the specific job requirements, you can also build a resume by using a resume builder to tailor your resume and get hired by the best employer.
Conclusion: Making you more confident
To sum it up, at any cost, volunteering is an exclusive and appreciable opportunity for everyone's career to make it more bright. Especially if you are looking for a grateful chance as a volunteer and fulfilling your task, it is the better way. Even volunteering can also help to boost your career by making yourself more confident. It also helps you in getting career opportunities by meeting diverse people while volunteering.