What a Good True Wireless Earbud Sounds Like?
Speaking of earbuds, one always looks forward to their sound quality first. This is an issue because unlike wired devices, here audio is transmitted wirelessly from an audio source to earbuds.
You might wonder, how satisfactory quality audio reaches you, well, a digital audio signal has to be compressed at the beginning, transmitted to earbuds through some wireless technology like Bluetooth, and finally, your earbud will receive the transmission and decode the digital signal into the analog signal.
The benefits you need to study before getting on for the best true wireless earbuds in India are they should fit perfectly in your ear canal, should be light in weight, and the control buttons can be easily operated.
On the other hand, Bluetooth audio codes are different kinds of algorithms that compress and decompress the digital audio signals into analog.
At the same time, one should also realize what is the reason behind the horrendous audio sounds you've been listening to. The reason includes the distance between your earbuds and the source (if it is connected to your mobile), the number of obstructions between the source and observer, and Bluetooth audio codes that your earbuds and mobile support.
Why are True Wireless Earbuds Cool and Popular Nowadays?
Before getting on your clothes to shop for the best true wireless earbuds in India. We would suggest you go through this article inch by inch by understanding the quality and benefits of getting one.
Everyone does enjoy listening to music or watching movies on any kind of earbuds, but a good listener or watcher would expect a perfect set of earbuds.
Most people prefer wireless devices over wired. While watching or listening to the audio, no one wants to have a necessary or disturbance in between, especially when it is a sensitive scene.
The practicality and portability of these wireless earbuds are worthwhile as their advantage of excluding the wire and enabling the listener to avoid getting them all tangled up or breaking.
So in this way here are the five distinct benefits we thought would amaze you on your mission of paying for wireless earbuds.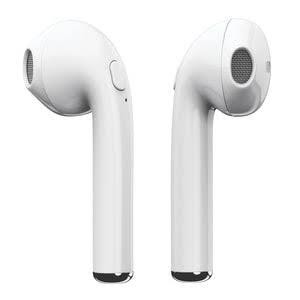 Free of disturbing wire: Everyone at least once in their lifetime has faced this struggle with untangling the wires of their devices, especially with their earbuds at a certain point, am I right? It will be sorted out in such a way that the use of Bluetooth connectivity to your wireless earbud can solve this uncomfortable situation. Moreover, a lack of hefty and crowded wire gives rise to its easiness in using your wireless earbuds. 
Excellent sound quality: Bluetooth technology has improved for the past few years, so, surely, every pair of wireless earbuds offers you an amazing sound quality. It is noticeable to listen to the quality differences between wired and wireless earbuds. 
No headphone jack required: Unlike wired earbuds, they don't need an adapter for everything. In addition to connecting to a smartphone, wireless earbuds can also assist with a computer, smart TV, PC, or video game joystick.
Affordable: The prices of wireless earbuds have declined a lot in recent years. The lack of wires delivers a better range of gestures, connectivity to a variety of devices that is of great range, memory, and battery life. We assure you that it is worth buying, especially if you are into fitness or travel lifestyle. 
Unique and stylish: To style your life. Most of the celebs have started yearning for wireless as they give you a look that no one can take their eyes off. 

True wireless earbuds specialty:
The connection of TWS to your mobile and earbud is made through different types of technologies such as Bluetooth, Radio Frequency, Kleer, and IF.
Outstanding sound quality: You can experience next-level audio.
Battery life: True wireless earbuds last around three hours of use on average before they get completely drained. With the help of a great charging case, it can run at least extra five to six hours of listening time.
Wireless range: As already mentioned, the quality of the sound gets distorted if the distance between the sources and earbuds are large. Furthermore, it includes other factors.
Warranty and price: True wireless earbuds in India are affordable more than the amount you guessed in mind.
Conclusion:
Currently, wireless earbuds have become the first choice for all purposes, including gaming, listening to the audio, or watching a video and workout. Wireless earbuds can be connected to their audio source without the need for any wire or cable. This wireless connection can be established via Bluetooth, Radio Frequency (RF), or Infra-red (IF).
Meanwhile, a wireless earbud that has no cord or cable connecting the earpieces is called a True Wireless Headphones (TWS).