There is no such place as London when it stands for Christmas celebrations. Many branded departmental outlets, London red buses, various sized Christmas trees, all twinkles brightly with the different fairy lights, and other sparkles on them. The rosy-cheeked and white-bearded Santa on the streets of London are always there to greet you. The lingering smell of wine mulling happens to be a big attraction to the passers. There is no place, as compared to London. All the shops and bistros are well-packed with people, with the mood to celebrate Christmas.
This time, most of the shops becomes overly commercialised. But that slightly increases the festive spirit, among others. From every nooks and crevice, the laughter sound rings-out, with full brilliance. And, as the Christmas countdown begins, London people come forward with full festive swing. During Christmas, avoid being a miser. Get into your Christmas garb, and start shopping for the same. London happens to be the right place spending your vacation with family, or just with your partner. 
Read on below the eight best things to do in London, during Christmas and try to incorporate most of the ideas to make your life a simple one.
Window-shop at the high-class departmental outlets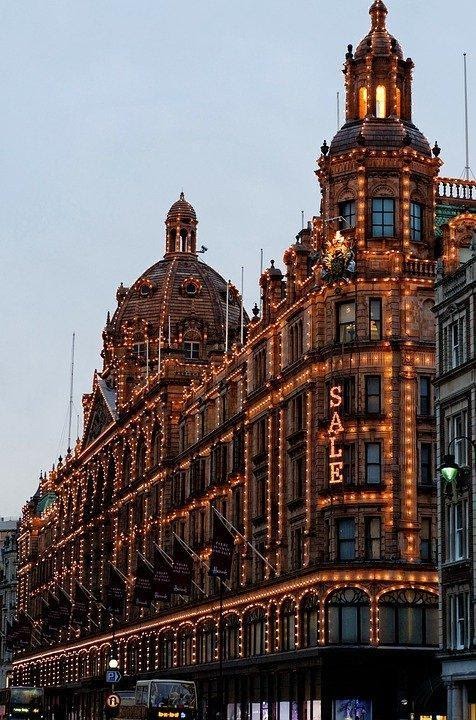 London is the hub of high-class departmental outlets, transforming into a fabulously decorated Christmas get-up. It is worthy of visiting the place and witnessing the store's window display. Once vacationing there, explore these places, or window shop for an eye-catching display during Christmas. An array of gifts are waiting to spoil you. Though priced a bit higher, if you are lucky, you might spot a good bargain or two.
Covent Garden is worth a visit
Covent Garden is worth visiting, all year round. The place looks colourful with various kinds of street performances, different shops and crazy stuff selling stalls. Many branded stalls are present here. The site seems power-packed with a Christmas carnival outlook. The aroma of roasted chestnuts, almonds, intoxicating red wine fills the air.
At the centre, a giant Christmas tree stands tall, being the cynosure amongst many. You can also buy Christmas gifts for your loved ones, as the options are many. The giant red baubles and mistletoes stand to attract the crowd. Every year, on 12th November, this place is decorated with Christmas lights, attracting more and more people, each year. 
See the sights of London's Winter Wonderland
Plan to visit London's Winter Wonderland located at Hyde Park. As the year passes, the whole Christmas event takes a new shape. It gets bigger and bigger every year. A vast range of gifts, crafts, food and drink in this Bavarian Village form a big attraction to the visitors.
Traditional wooden cabins entertains the visitors with local cuisine and drink. Live concerts, fun rides and skating take place inside. Since the entry has no charges, you can always take a sneak-peak to experience the Christmas celebrations. 

Discover freshness in Royal Botanic Kew Gardens during Christmas
From November to January, the Royal Botanic Kew Gardens conducts the pre-Christmas and Christmas celebrations after-dark! The whole place gets lit-up with thousands of fairy lights and laser beams. Spicy flavoured cider, hot Choco milkshake, roasted marshmallows and many more glorifies the eating area. You will never leave the place hungry or thirsty, as this place caters to all taste-buds!
Never miss the Winter Festival at Southbank Centre

During Christmas, never miss the Winter Festival at Southbank Centre. It is a music and arts festival that takes place, starting from November to January. Twinkling string lights, brighten the southern bank of the River Thames. A huge Christmas tree stands tall, at the entrance. That also happens to be a photo clicking zone, so you should take advantage of the same.
Wooden cabins that sell various Christmas gifts and goodies attracts most of the crowd. Be sure to buy small knick-knacks for your dear ones! Spoil your taste buds with the refreshing taste of German sausages, salami and other festive delicacies. The noteworthy thing about this place is the cosy stroll you can experience with your partner along the River Thames.
Witness the giant Christmas Tree highlighting Trafalgar Square
Witness the giant Christmas tree that highlights the Trafalgar Square in London, celebrating the occasion. Every year, the 82 feet Christmas tree is decorated with all sorts of decorative pieces. During World War II, this giant Christmas tree was a gift by Oslo city to London people, acknowledging their support to Norway.
Hundreds of twinkling lights decorate the strands of the tree and making it look more prominent and bright. Try to be a part of the numerous choirs, by singing Christmas carols and commemorating the occasion. Also watch the live musical performances, which take place from 1400 hours to 1900 hours during weekends, and 1600 hours to 2100 hours during weekdays.  
Watch the spectacular Christmas shows and displays
Apart from the traditional pantomime of Great Britain, London's Theatreland never restricts itself from adventuring more. There are many adult live shows, theatrical plays and other indulgences attracting many. Spend on the tickets for The Royal Ballet's The Nutcracker show, to have an all-new experience.
Many streets and alleys, heavily decorated with Christmas displays is a significant attraction. Go for a walking tour to discover the best of all. And if you have less time, restrict yourself from just visiting Regents Street, which is accessible to all from the first week of November, and Oxford Street from last week of November.
Visit the well-lit Hogwarts giant model
Who can forget visiting the places where the Harry Potter movies' shooting took place? At the outskirts and covering hundreds of acres, the Warner Brother Studio Tour should always highpoint your travel check-list during Christmas in London. Open all day, throughout the year, the place looks much more magical and mystical, owing to the unique Christmas décor.
Hogwarts giant model, covered in snow, as well as the grand Christmas feast in the Great hall, is worth a watch! You can plan a couple of day's trip to have a new experience. While Planning for a family outing, make sure you have roof racks UK installed in your car. It would make your journey comfortable as all your luggage shall be stacked on the roof rack, Hence giving you all that extra space to sit. The whole thing is accessible from November to January, during every Christmas. So, be sure to be there this Christmas. 
Have a colourful Christmas
London turns into a Christmas wonderland, right from sparkling and glittering merry lights to old-style markets and ice-skating. Add-on to the sparkle to your vacation by making the most of London's Christmas. There are various modes of celebrating the festive mood of Christmas in London. The above discussed eight best things to do would surely be your guiding light, once you visit London during Christmas. Have a merry and colourful Christmas.