Taking care of your teeth is the best way to maintain healthy gums, impressive crowns, and a radiant smile. That is something that routine dental checkups can help you achieve. But what happens if you end up having bad breath? Worry not, there are various expensive ways you can prevent this, but there are also inexpensive techniques that will impress you. For instance, you can go ahead and make your mouthwash in the comfort of your kitchen. Below is information on how to make your mouthwash at home and get rid of bad breath.
Essential ingredients
Before jumping to what you need as well as how to come up with homemade mouthwash, it is ideal to understand what the main ingredients do to your mouth. You will notice that most homemade mouthwash recipes contain the products below. Here are the reasons why.
Baking soda
Some people know it as sodium bicarbonate. It is one of the many mouthwash recipes that comes with various advantages. First, sodium bicarbonate deals with halitosis. It is a condition that comes along when acidic food's residue remains on your teeth. Baking soda also tends to balance out the acid, thus preventing plaque, which can lead to cavities. This is why it is essential in homemade mouthwash recipes. Additionally, it helps remove stains, leaving you with extra white teeth.
Essential oils
Essential oils are vital and should never miss in any mouthwash recipe. These oils help fight germs, and so it's great even if your kid has a pediatric crowns kit. The most common essential oils used include the likes of spearmint or peppermint. Some go for a blend of essential oils. That means including the likes of lemon, eucalyptus, rosemary, and even cinnamon oils, which is excellent.
Salt
Another common ingredient is common salt. There are so many things that salt helps with when it comes to your teeth. One advantage of salt is that it remineralizes your teeth. By doing so, it makes them stronger and better. It is also an excellent remedy for inflammation, as well as sore in your mouth. This means any homemade mouthwash should contain salt, and not just to help you achieve fresh breath. You should also keep in mind that unrefined or sea salt is necessary for more effective results.
Aloe Vera
Though a crucial ingredient, not every homemade mouthwash requires Aloe Vera. Having it will, however, help in treating periodontal problems. It also prevents the formation of plaque, which can develop to cavities as well as ease bleeding gums or gingivitis. If you wish, you can always include it in your homemade mouth wash to unlock its potential further.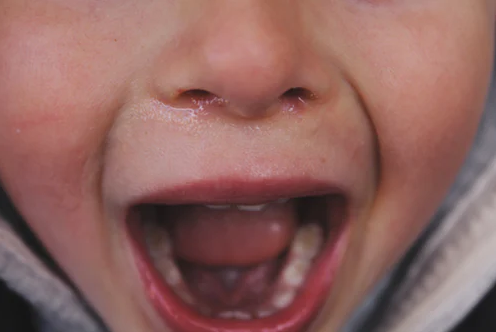 Now that you are aware of the importance of the main ingredients. Its time you learn how to come up with the solution that is going to see you have a fantastic breath at all times. Before you begin, make sure you have all the ingredients in place.

Ingredients
Half a cup of distilled water
Half tablespoon of unrefined or sea salt
Half tablespoon of baking soda
Three drops of peppermint oil or spearmint oils or any other of your choice
Nine drops of liquid stevia
Half a cup of Aloe Vera juice
Procedure
Mix half a cup of distilled water with Aloe Vera juice in a bowl. Stir it until the mixture is ready.
Add half a tablespoon of unrefined salt then the baking soda. Again stir thoroughly to ensure the contents mix well.
You can then add three drops of peppermint or spearmint then the nine drops of liquid stevia.
Mix the contents, then pour them in a glass bottle and label it 'mouthwash'. The reason why you should use a glass bottle is that the contents can trigger a reaction with a plastic container.
Use the DIY mouthwash immediately after brushing your teeth. Take a spoonful and swirl it in your mouth for about 30 seconds before spitting it in the sink. Ensure you do this twice every day to achieve better results. Every time you want to use your mouthwash, give it a shake so that the contents mix perfectly.

That is how you end up creating one of the best homemade mouthwash. Remember, you can always depend on such a solution to keep your breath smelling fresh every day. There are also other recipes that you can use to come up with an effective mouthwash. What makes the one described above unique is because it contains all the essential ingredients. That includes aloe Vera, sea salt, baking soda, and essential oils. The use of some components, such as liquid stevia, is to make it sweet. You can also increase the portions if you feel you want to make a solution for your whole family.