The Z83 Form has often been difficult to fill by candidates applying for vacancies in the South African government departments in 2022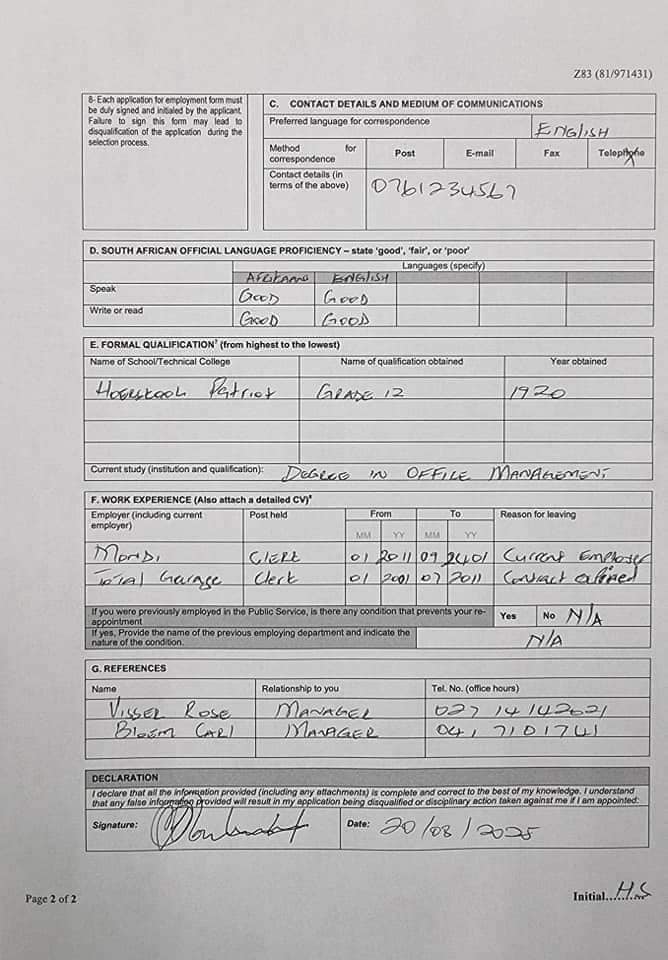 Here is a demonstration of how to fill a New Z83 form as required by the government of South Africa when applying for vacancies.
Can get new New Z83 form
1. Position advertised
Fill in the job title as per the vacancy advert. Do not change or shorten the job title.
2. Department
Briefly write the government department advertising the vacancy. For example Basic Education
3. Vacancy Reference Number
Every government vacancy has a reference number that should be filled in the Z83 form.
4. Date of Birth
Write your date of birth starting with the day, followed by the month and lastly the year.
5. Contact Details
Make sure you put your contact details on the form, and if need be, you can write two phone numbers. It is better to be contacted via the phone as it is faster and direct than other means of communication. You are allowed to neatly fill in two phone numbers.
6. languages
Write one language on your preferred language of response
7. List all formal qualifications you have attained in your career.
Begin with the highest qualification to get the attention of the recruiters. The form also suggests that you fill from the highest to the lowest.
8. References
References are important in your job search. The Z83 form allows you to fill in up to three references. We urge you to fill in all three.
9. Declaration
Your application should be signed and the date should also be filled. Initialise on the bottom right of the form.