Cell C announced today (19 September 2014) that it will be offering free WhatsApp services to its customers.
Cell C said that it is committed to finding innovative ways to partner with Instant messaging services, social media and VoIP service providers to ensure their customers get the best value and an overall great communications experience.
From 19 October 2014, WhatsApp usage will automatically be free to all existing and new contract customers.
WhatsApp will also be free to all Prepaid customers on MegaBonus, which already offers customers three times the value of their recharge.
Cell C WhatsApp users will be able to send pictures, voice messages, videos and text messages via WhatsApp absolutely free of charge without incurring any data charges.
How to connect FREE whatsapp on Cell C?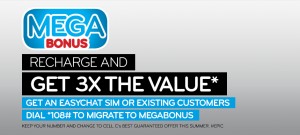 For more information MEGA Bonus