Zille spent 8 years as opposition leader
Growing calls for the party to have black leader
 Zille says no "plot" to hand post to party's parliament chief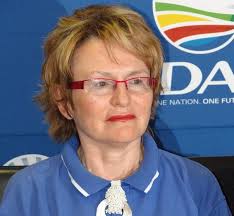 Zille said that after almost eight years at the helm of the DA she would not stand for re-election at the party's federal congress in Port Elizabeth on May 9. Zille was elected DA leader on May 6, 2007. She would however complete her second term as Western Cape premier, which ends in mid-2019. She was elected to this post in May 2014.
Helen Zille, 62, the daughter of German immigrants, has spent the last eight years heading the liberal democratic DA which won over 22 percent of the vote in elections last May, its best ever result, as the ruling African National Congress's (ANC) share slipped to 62 percent from over 65 percent.
"These kinds of decisions are a long time coming but in the end they are made suddenly. The time is right," said Zille, a former mayor of Cape Town and current premier of Western Cape province.
Maimane said this was a "massive announcement" for the DA, which he needed to take in still. He described Zille as his hero and praised her for her contribution to the country.