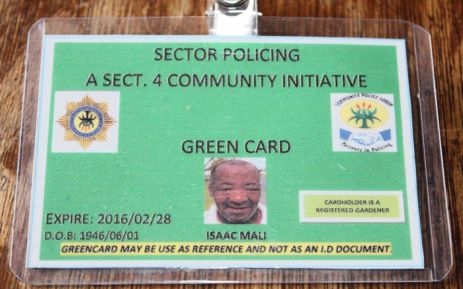 The issuing of cards to job seekers in a bid to root out criminal elements in some Worcester suburbs has been strongly condemned by the African National Congress (ANC) and Democratic Alliance (DA).
It's been reported handymen and gardeners, among others, have had to apply for the green cards to gain access to certain upmarket neighbourhoods in the Boland town.
It's a move which has been compared to the controversial and much derided 'dompas' system under apartheid.
Both the ANC and the DA have come out strongly against the practice and have called for immediate investigations.
In a statement, the ANC says it will lodge a complaint with the South African Human Rights Commission to investigate the matter.
The party says the practice portrays blacks as being dangerous people who cannot be trusted unless vetted by a white person.
DA Member of Parliament (MP) Marius Redelinghuys has called on Western Cape Police Commissioner Arno Lamoer to put an end to the practice and to investigate the role of the police and the local Community Police Forum (CPF).
He says the issuing of these green cards by the police has all the hallmarks of the apartheid-era 'dompas' system.
At the same time, the Worcester CPF has defended the use of the green cards, saying they are being used to protect residents from criminal elements.
Chairperson of the CPF Guido Opperman says the use of the colour green for the cards might be inconsiderate as it resonates with the 'dompas' used during the apartheid system.
"The insensitivities with the regards to the greenness of the card, or using your words, of a pass, is also something that the CPF executive is very concerned about."
The system has been fiercely condemned by political parties and civil society amid reports that only coloured and black people are being made to carry the cards.