If there is one tradition that still makes sense, even after years of practice is decorating the outside porch in preparation for Christmas. People tend to showcase their creativity by blending different lights in various sections of their houses. Whether you are a professional at fixing your outdoor Christmas lights or an amateur in the same, there are various tips that you should consider. These tips will not only ensure your safety but also see to it that you end up with a fantastic time putting up the decorations. Below are tips for outdoor Christmas lights decoration that you should put to practice.
Go simple
Sometimes the best way to make a statement is by using simplicity. Going simple is one of the few ways to decorate your home. That is by using less gleaming lights, instead of using lights that glare. You can also go ahead and simply incorporate the lights without going overboard and still achieve an incredible outlook. What you need is someone admiring the beauty of your decoration, not everyone wondering what is happening. It may not be easy to achieve simplicity, but with a few tips for outdoor Christmas decorations, you will find the process manageable.
Illuminate the landscape of your home
If you are the type of person who values landscape more than anything else in a home, then you should go ahead and show that. Illuminating your landscape may take too much time and energy, but it always brings out the beauty of your home. For this to be possible, you need various Christmas lights, a flat cord power strip to accommodate the plugs, and some little bit of ingenuity. You can then go around and highlight the trees, flowerbeds, and even specific spots of the ground. Make sure you do it well enough to bring out the architecture.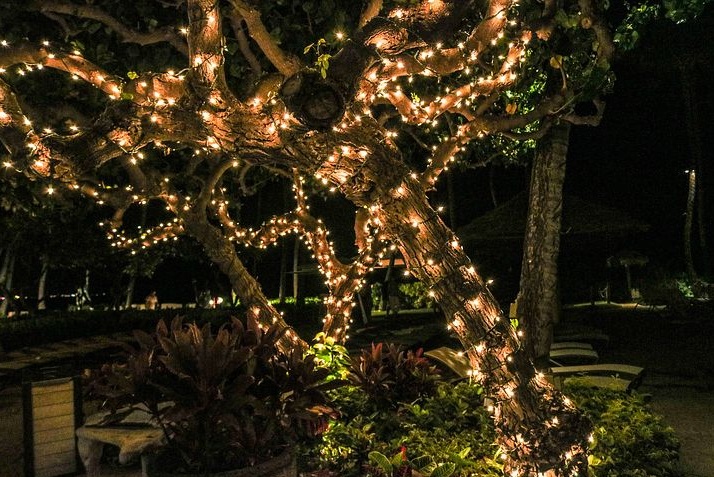 Highlight the architectural structure of your home
Have you ever thought how amazing your home will look if you went ahead and illuminated its architectural structure? To do so, you need to get long strips of Christmas lights and use them to adorn the edges of your house. That includes the roof, and just below the gutter. If you do it correctly, the lights will illuminate the architectural structure of your home, and leave it looking stunningly beautiful. Just like illuminating the landscape, using Christmas lights to highlight the structure of your home is somehow tedious but worth it.
Make use of connectable lights
When highlighting places like the architectural structure of your home, the yard, and the landscape, you are bound to use multiple lights. To achieve a fantastic design and a seamless landscape, you should go ahead and use connectable lights. These lights allow you to connect another strip once you complete the strip you are using. That way, you don't need to worry about how you are going to finish your decoration without starting at the socket once more.

Use a ring connector for flexibility
If there is one device that will see you have an incredible time decorating your outdoors for Christmas is a ring connector. A ring connector mostly comes in handy when trying to decorate an outdoor tree. It allows you to run the lights in any direction without worrying about their lengths. Once you complete a strip, connect another, one, and continue decorating. These connectors do work easy and help you to achieve a fantastic finish.
Make use of warm lights
It would be best if you used warm lights when decorating your outdoors for Christmas. It is a tip that will see you live harmoniously with your neighbors. Some people don't like bright lights shifting colors every two seconds. That person may be your opposite neighbor. Using warm lights will enable you to adorn your home in preparation for Christmas without creating chaos. That is because warm lights are visible enough but not bright enough to disturb. So avoid bright lights more so the ones that are constantly flickering.
Pay more attention to the eaves of your home
The eaves of your house are enough to make your outdoor decorations stand out and bring out the beauty of your home. All you have to do is use LED lights to decorate the eaves. It is a simple way of adding glamor while showcasing the beauty of your entire house. You should, however, make sure that you do an excellent job of highlighting the eaves perfectly. Each strip should be symmetrical for a beautiful appearance. 

Those are so far some of the best tips that you can use to decorate your outdoor Christmas lights and come up with an incredible look. Each tip aims at enhancing the look of your home, yard, and landscape without being a distraction to your neighbors. All you have to do is apply some of the details mentioned above. That will enable you to radiate your whole backyard and patio.