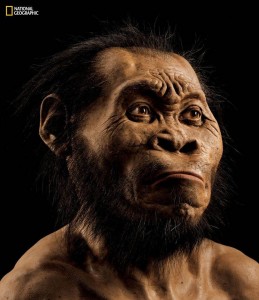 Homo naledi a new species of human ancestor has been unearthed at the Cradle of Humankind World Heritage site in South Africa.

Details of the significant fossil discovery, called Homo Naledi, have been kept secret for years and was unveiled at Maropeng, in the Cradle of Humankind on Thursday.
The discovery of a new species of human relative was announced by the University of the Witwatersrand, the National Geographic Society, the Department of Science and Technology (DST) and the National Research Foundation of South Africa (NRF).
The ground-breaking discovery, which began in November 2013, and included fossils of infants, children, adults and older people, will help the world better understand how humans evolved. This marks the largest assembly of fossils of human ancestry discovered. The world heritage site, which includes the famous Sterkfontein caves, has boasted several discoveries that illuminate the evolution of humans.
1. H. naledi was named after the Rising Star cave – "naledi" means "star" in Sesotho. The bones were found in a chamber of the cave named Dinaledi, accessible only through a narrow chute, about 90 metres from the cave entrance.

2. Homo naledi looks like one of the most primitive members of our genus, but also has some surprisingly human-like features.

3. Homo naledi had a tiny brain, about the size of an orange, and a slender body, was about 1.5 metres tall and weighed about 45 kilograms.

4. The teeth are similar to the earliest-known members of our genus, such as Homo habilis, but the shoulders are more similar to those of apes.

5. The hands suggest tool-using capabilities, with extremely curved fingers, more curved than almost any other species of early hominin, which demonstrates climbing capabilities.

6. The feet are "virtually indistinguishable" from modern humans. Its feet and long legs suggest the species was well-suited for long-distance walking.

7. The fact that the fossils were found in a room deep underground, practically alone, in the absence of any other major fossil animals, suggests the possibility of a form of ritualised behaviour previously thought to be unique to humans. It seems like the bodies were carried into the chamber, suggesting an understanding of death.

8. More than 1 550 fossil elements were recovered, consisting of infants, children, adults and elderly individuals.

9. More than 60 cavers and scientists worked together to recover the bones through the 18-centimetre-wide cave opening.

10. There are potentially hundreds, if not thousands, of remains of Homo naledi still in the chamber.
Homo sapiens
Homo sapiens (Latin: "wise man") is the binomial nomenclature (also known as the scientific name) for the human species. Homo is the human genus, which also includes Neanderthals and many other extinct species ofhominid; H. sapiens is the only surviving species of the genus Homo.
1. Homo erectus

Homo erectus (meaning "upright man", from the Latin ērigere, "to put up, set upright") is an extinct species of hominid that lived throughout most of the Pleistocene geological epoch. Its earliest fossil evidence dates to 1.9 million years ago and the most recent to 70,000 years ago. Its extinction is linked by some scientists to the Toba super-eruption catastrophe, but no sufficient case has been made to date for the idea. It is generally thought that H. erectus originated in Africa and spread from there, migrating throughout Eurasia as far as Georgia, India, Sri Lanka, China and Java. But other scientists posit that the species rose first, or separately, in Asia
2. Homo ergaster

Homo ergaster (meaning "working man") or African Homo erectus is an extinct chronospecies of the genus Homo that lived in eastern and southern Africa during the early Pleistocene, that is, between 1.8 million and 1.3 million years ago. It is one of the earliest hominins, which are those hominids that comprise the original members and species of the human clade after splitting from the line of the chimpanzees. (And Homo ergaster is variously thought to be ancestral to, or as sharing a common ancestor with, or as being the same species as, Homo erectus).
3. Homo floresiensis

Homo floresiensis ("Flores Man"; nicknamed "hobbit" and "Flo") is widely believed to be an extinct species in the genus Homo. The remains of an individual that would have stood about 3.5 feet (1.1 m) in height were discovered in 2003 on the island of Flores in Indonesia. Partial skeletons of nine individuals have been recovered, including one complete skull, referred to as "LB1". These remains have been the subject of intense research to determine whether they represent a species distinct from modern humans. This hominin is remarkable for its small body and brain and for its survival until relatively recent times (possibly as recently as 12,000 years ago). Recovered alongside the skeletal remains were stone tools from archaeological horizons ranging from 94,000 to 13,000 years ago. Some scholars suggest that the historical H. floresiensis may be connected by folk memory toebu gogo myths prevalent on the isle of Flores.
4. Homo habilis

Homo habilis is a species of the tribe Hominini, during the Gelasian and early Calabrian stages of the Pleistocene period, between roughly 2.8 and 1.5 million years ago
5. Homo Naledi

Homo naledi is an extinct species of hominin assigned to the genus Homo, discovered within the Dinaledi Chamber of the Rising Star Cave system, which is located in the Cradle of Humankind, South Africa. The cave system itself is approximately 800 m southwest of Swartkrans (Afrikaans for "black cliff"), and within the same region as the well-known hominin-bearing sites of Sterkfontein (Afrikaans for "strong spring") and Kromdraai (Afrikaans for "crooked turn")
6. Homo heidelbergensis

Homo heidelbergensis — sometimes called Homo rhodesiensis — is an extinct species of the genus Homo which lived in Africa, Europe and western Asia between 600 and 200 thousand years ago. Its brain was nearly as large as that of a modern Homo sapiens. First discovered near Heidelberg in Germany in 1907, it was described and named by Otto Schoetensack
8. Homo neanderthalensis

The Neanderthals or Neandertals UK  (from Neandertaler) were a species of human in the genus Homo that became extinct between 41,000 and 39,000 years ago. They were closely related to modern humans, differing in DNA by just 0.12%. Remains left by Neanderthals include bone and stone tools, which are found in Eurasia, from Western Europe to Central and Northern Asia and the Middle East. Neanderthals are generally classified by biologists as the species Homo neanderthalensis, but a minority considers them to be a subspecies of Homo sapiens (Homo sapiens neanderthalensis).