Closing Date: 28 February 2017
SA Navy Application Forms 2017 pdf
Location: ♦ Gauteng ♦ Eastern Cape ♦ Free State ♦ Northern Cape ♦ Limpopo ♦ Mpumalanga ♦ Western Cape ♦ North West ♦ KZN
SA Navy Traineeship Programme Programme
The MSD programme is a two-year voluntary service system. Recruits are required to sign up for a period of two years, during which they will receive military training and further functional training in a specific field, eg Combat Operators, Support services, Submarine operators etc in their first year of service. During the second year of service, depending on the duration of their functional orientation, they will be deployed where needed and given the opportunity to apply their
knowledge and develop their skills.
South African citizen
Age between 18 and 22
South African Citizen (Relinquish any other citizenship).
Have no record of criminal offences.
Not be area bound.
Preferably single.
Comply with medical fitness requirements for appointments in the SANDF.
Be free from physical disabilities and not suffer from claustrophobia or a fear of heights.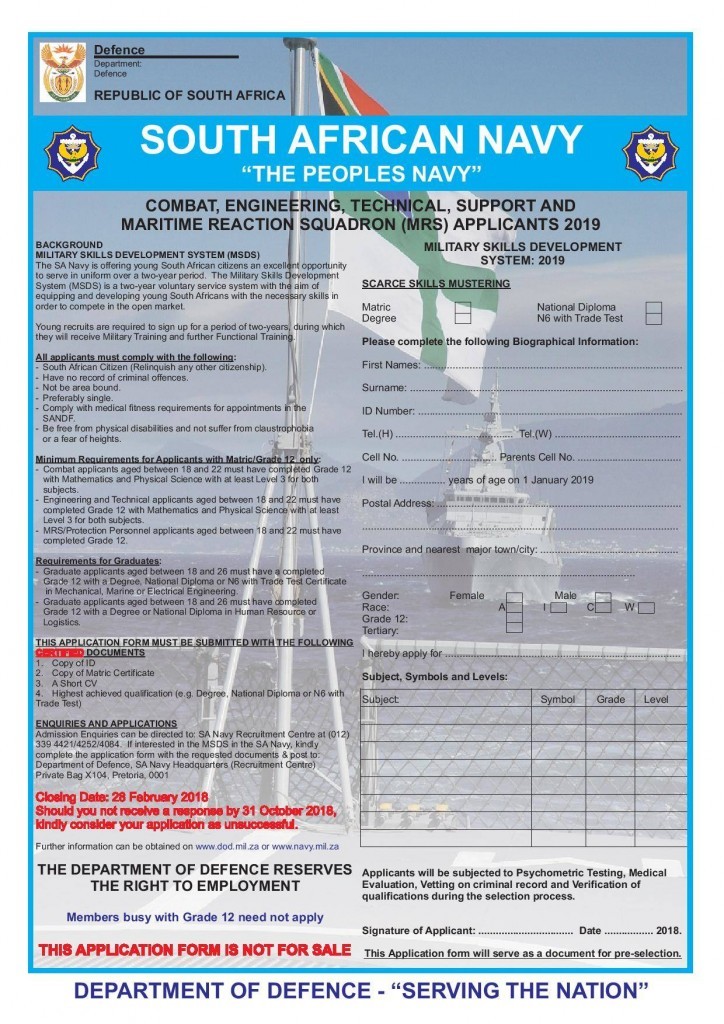 Admission Enquiries can be directed to: SA Navy Recruitment Centre at (012) 339 4421 / 4252 / 4084. If interested in the MSDS in the SA Navy, kindly complete the application form with the requested documents & post to: Department of Defence, SA Navy Headquarters (Recruitment Centre) Private Bag X104, Pretoria, 0001
SEE More  SA Army Opportunities
Should you not hear from the Department of Defence by 31 October 2018 please assume that you application has been unsuccessful. The Department of Defence reserves the right to employment.