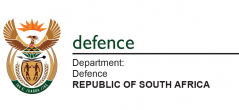 SANDF – Department of Defence – Vacancies / Careers
About SANDF – Department of Defence – Vacancies / Careers
The Department of Defence is a department of the South African government. It oversees the South African National Defence Force, the armed forces responsible for defending South Africa.
Members of the Commission include the Chiefs of the service arms, as well as the Chief of Defence Intelligence as well as the Chief of Joint Operations.
The mission of the Department of Defence is to provide, manage, prepare and employ defence capabilities commensurate with the needs of South Africa, as regulated by the Constitution, national legislation, parliamentary and executive direction.
The Department's strategic priorities are to: halve poverty and unemployment; ensure a more equitable distribution of the benefits of economic growth and reduce inequality; improve the national health profile and skills base and ensure universal access to basic services; improve the safety of citizens by reducing incidents of crime and corruption; and build a nation free of all forms of racism, sexism, tribalism and xenophobia.
Four armed services make up the forces of the SANDF:
South African Army
South African Air Force
South African Navy
South African Military Health Service
SANDF Application Forms for 2021 / 2022 (Download PDF)
A collection of all the South African National Defence Force (SANDF) application forms for unemployed youth who want to apply for Military Skills Development System (MSDS) programme 2022.
The application forms are for SA Navy, SA Army, SA Military Health Service and SA Air Force.
The SANDF Application Forms 2022 below:
The closing date for the SANDF application for 2021 is the 30 July 2021.
Press
| | |
| --- | --- |
| When and How to Apply at SANDF | https://www.khabza.com/when-and-how-to-apply-at-sandf |
Jobs at SANDF – Department of Defence – Vacancies / Careers