DIVISION: Strategy and Business Enablement
DEPARTMENT: Security Services
VACANCY: Security Officer (15 positions)
SALARY BAND: B3
REF NO: SECUROFF57
———————————————————————————————————————————
Job Purpose
To provide security and protection for the Corporation and all other stakeholders, local and international. To comply with all Constitutional and legislative obligations as well as regulatory requirements, in addition, international agreements in terms of security and protection of Corporation's installations, sites, premises, materials, employees and visitors. Performing Access and Egress control duties during a Shift for all Necsa allocated operational entrances, exit and facilities.
Principal Accountabilities
· Effective Access control and searching in line with Necsa procedure;
· Conduct assigned security functions within Necsa site;
· Handling and response to all security incidents;
· Compliance with security standards (statutory and Necsa specific);
· Asset management; and
· Administration duties.
Competencies (Job Specific and Behavioural)
· Verbal and written communication skills.
· Planning and administration.
· Overall awareness.
· Diversity awareness.
· Self-management.
· Time management.
MINIMUM QUALIFICATIONS & EXPERIENCE:
General
· Valid driver's licence: Code B or higher.
· Meets vetting requirements for post.
· SAPS firearm competency for all NKP specified types and proficiency for all at business level.
Academic
· Grade 12 with diploma exemption or higher.
· Mathematics or mathematics literacy
· English: At least first or first additional language.
Professional
· NKP certificate of competency.
· National Certificate General Security Practices SAQA 58577 NQF 3 with NKP specialization part qualifications/ALTERNATIVELY
· Any SAQA equivalent or better security related qualification with at least the same credits and at the NQF level security related qualification/part qualifications including NKP specialisation.
Experience
· At least three (3) years' armed security officer experience.
Closing date: 26 April 2022.
CONTACT PERSON
Ms. Lydia Lebona
Tel: 012 305 4150
Interested candidates are invited to forward their CVs with certified copies of educational qualifications to [email protected]
GENERAL:
Should you not hear from us within 30 days of the closing date, please consider your application unsuccessful.
Necsa Group is committed to Employment Equity when recruiting. Therefore, priority will be given to African Females, African Males and people with disabilities, in support of achieving our Employment Equity targets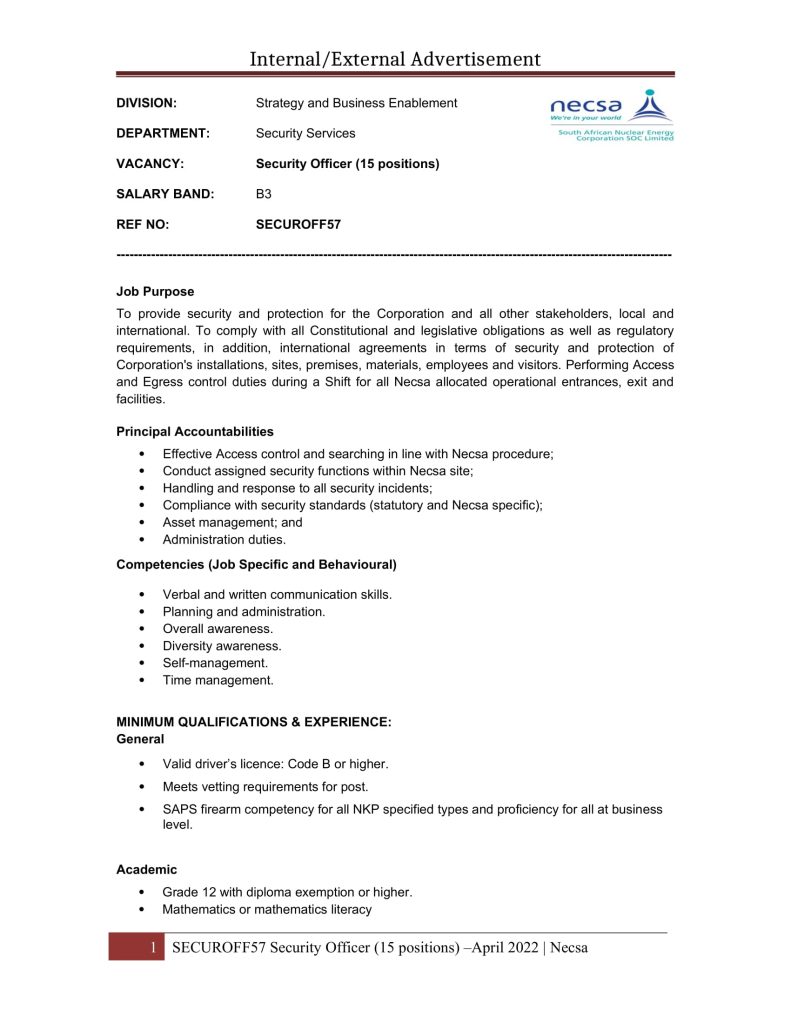 – Security Officer x15 https://necsa.co.za/wp-content/uploads/2022/04/SECUROFF57-Advert-Security-Officer-15-posts-April-2022.docx…